LED torches & batteries
NiteCore CRI: flashlights with natural colour rendering
NiteCore flashlights have been popular for years. For a reason, because the flashlights are simply very good. In addition to the 'regular' lights NiteCore has introduced a collection of flashlights with higher Colour Index Rating, or CRI. NiteCore has turned various flash, camping and headlights into CRI lights.
Nitecore CRI vs. standard flashlights: the difference
Regular flashlights are generally equipped with a white LED light. This LED does not properly produce natural colours, but makes the image slightly bluer. As a result you end up with a little cooler version of reality. For many this isn't a big deal. However, if you are going to use your flashlight while filming or photographing you are looking for an, as natural as possible, colour rendering. That is exactly what the NiteCore CRI does best!
The NiteCore CRI flashlights are enhanced with special LED lights. These LED lights have a higher Colour Index Rating. This rating determines the colour rendering of the LED light. The special LED lights used by NiteCore reach a CRI of ≥ 90. This is very high, especially when you keep in mind that the maximum CRI is 100. Visually the difference between a 'regular' flashlight and a NiteCore CRI flashlight looks as such:
NiteCore high CRI-LED: the drawback
The drawback of the so-called high CRI-LED is that it uses slightly more power. As such you will notice that NiteCore's CRI versions have slightly less light output with which they compensate for the higher consumption of power. As a result both the standard version and the CRI version have the same battery. Whether the advantages of a high CRI-LED counterbalance the drawbacks of the high CRI-LED depends on the preference and use. Whatever version you decide to go with: you can't go wrong with a NiteCore light.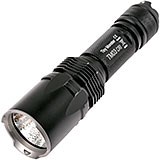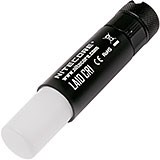 <![if !IE]> <![endif]>