Work Sharp Multi Sharpener, Ken Onion Edition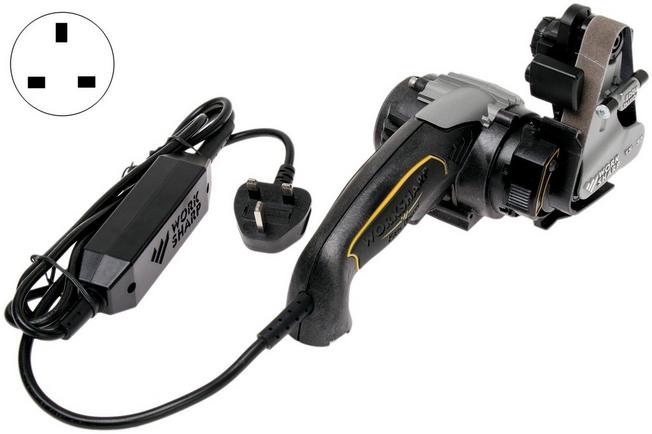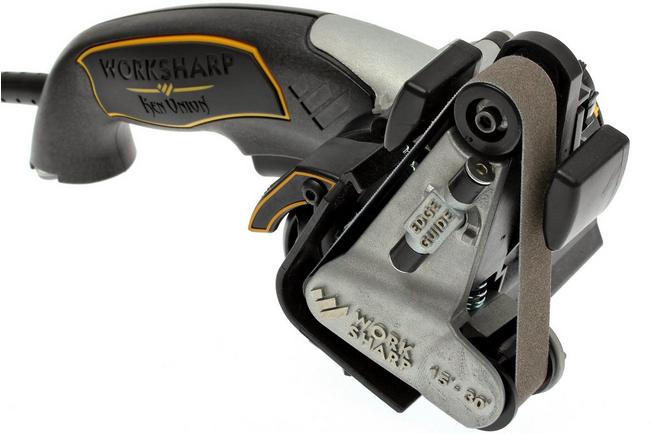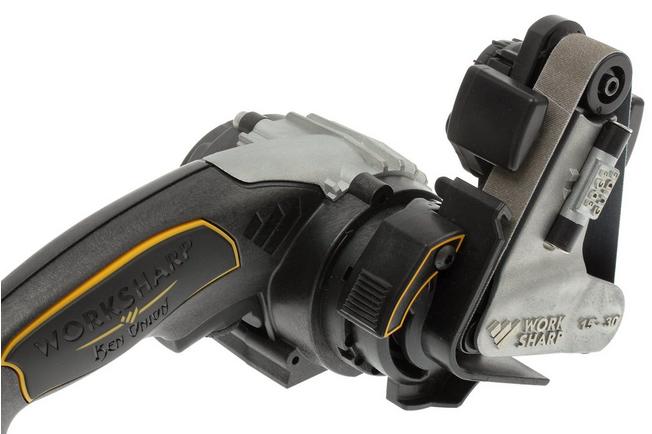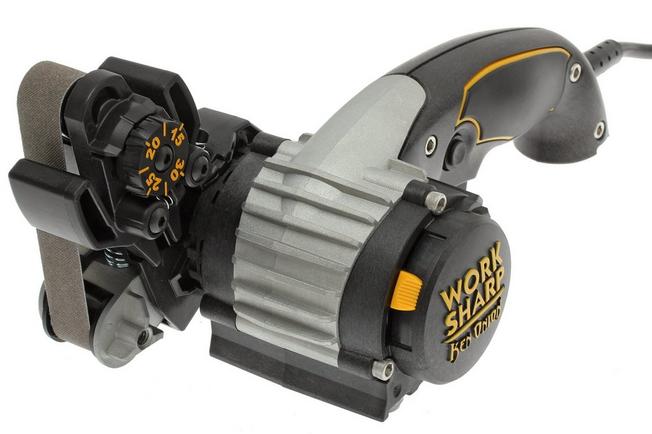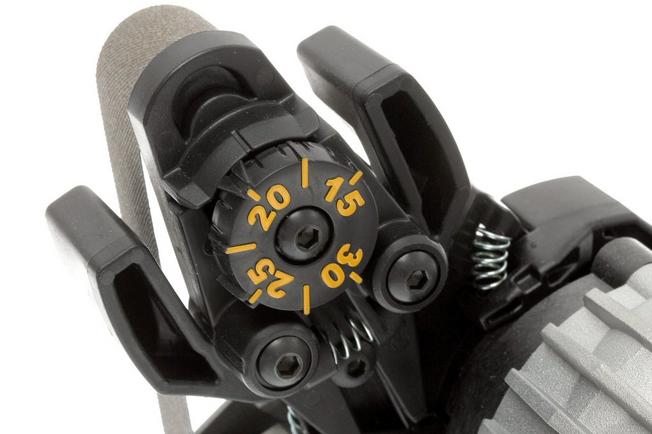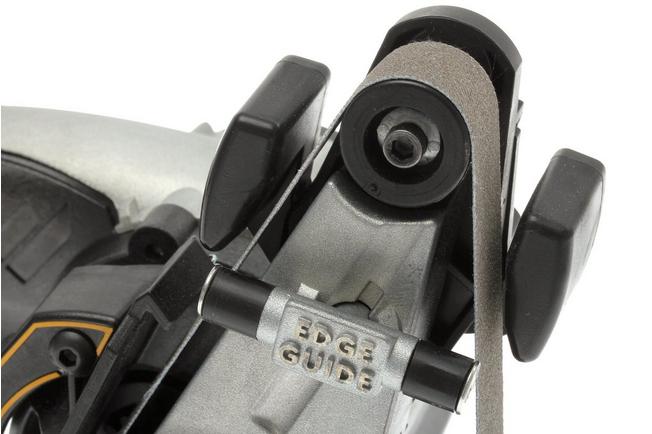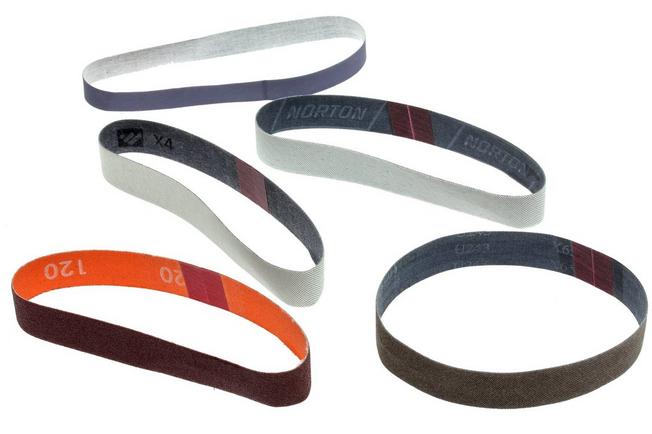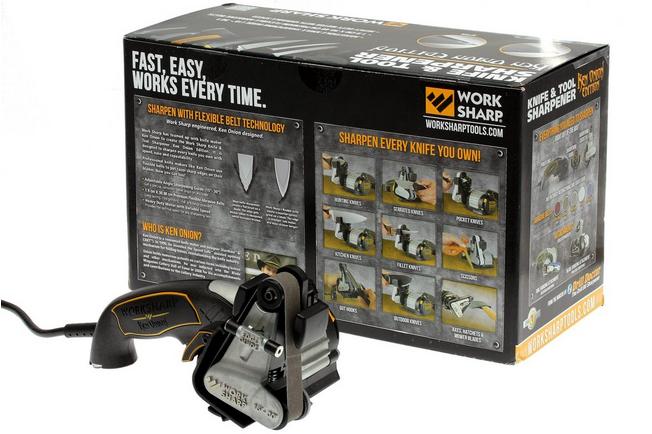 Article number WSKTS-IKO-UK
Work Sharp Multi Sharpener, Ken Onion Edition
In stock
Order before 5:30 PM and get same day shipping
All prices include VAT, fees and charges
Fixed shipping rate of £8.50 for all orders
We ship from the Netherlands
Our customers give us a 4.7/5
Full description
This electric sharpening machine is co-developed by the well-known knives designer Ken Onion. Every knife can be sharpened with this machine. And in addition to knives, it is also possible to sharpen sharp tools such as chisels and axes, spud hooks, scissors and even serrated knives. This machine is in fact a small professional belt-sharpening machine with a guidance system to sharpen knives in an angle of between 15 and thirty degrees. This makes the reach big enough to be able to sharpen both thin Japanese chef's knives and a lot thicker outdoor knives. The major advantage of sharpening on a belt is that it sharpens a somewhat convex fold in your blade because of the flexibility of the belt. These are stronger than the straight ones of, for example, a sharpening stone. And moreover, a knife with a curved blade can be very well sharpened on the WorkSharp Multi Sharpener. This may be a problem on a sharpening stone.
Reviews
Ronald Skeet, Cleethorpes
Tuesday, 5 May 2020
It's take some practice, and there is no short cuts, you must follow the instructions for best effects.
---
lee Young, Tonbridge
Tuesday, 28 January 2020
The best product I have ever bought. Easy to use and the sharpest knives ever..
---
Philip Frith, Slough
Tuesday, 22 October 2019
---
WILLIAM DUGUID, London
Wednesday, 9 October 2019
I was and am quite surprised by the results I have achieved using this sharpener. I don't have the patience to use water stones and was looking for something to quickly and easily sharpen my knives. With a little reading in the manual to get the basics down, I was able to sharpen my knives to hair popping, paper slicing sharpness. Granted none of my knives were super dull, but they are a little scary now. So all in all I am very happy with my purchase.
---
Simon, Pershore
Wednesday, 13 April 2016
I bought this having watched the you-tube reviews of it, I should have realised that it was all a very good sales gimmick. When you go to sharpen the knife it is very hard to keep the blade against the belt when it is running down and away from the blade, The guides which are supposed to help you are next to useless. I have since used a proper bench mounted belt sander and found it much easier to use, and seeing as they are much the same price I would say that your money would be better spent on a proper bench mounted belt sander.
---
See all reviews
Specifications
Features & functions
axes, chisels, pocket knives, scissors, western kitchen knives
Article number WSKTS-IKO-UK
Work Sharp Multi Sharpener, Ken Onion Edition
In stock
Order before 5:30 PM and get same day shipping
All prices include VAT, fees and charges
Fixed shipping rate of £8.50 for all orders
We ship from the Netherlands
Our customers give us a 4.7/5