Benriner mandolins: for a neat cutting result
With a large amount of experience dating back to the 1940s, Japan's Benriner is a well-known brand when it comes to mandolins. To this day, the Benriner mandolin is still very recognizable. The sleek design hasn't seen many changes over the years. After all, why change a winning team? Benriner mandolins do come in different sizes these days, so there is a perfect mandolin for everyone's cutting needs!
Read more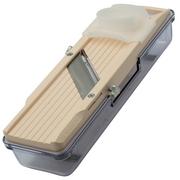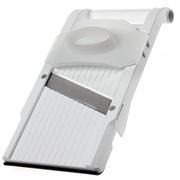 Redenen om te kiezen voor een Benriner mandoline
Zoals we al zeiden biedt Benriner een perfecte mandoline voor elke snijwens. De mandolines zijn niet alleen verkrijgbaar in verschillende formaten, maar ook met verschillende snijdiktes. Ook is er de Benriner Mandoline Catch; een mandoline met een praktische opvangbak die je gesneden groente opvangt. De handige keukenhulpjes van Benriner hebben een vingerbeschermer en een rubberen anti-slip voet aan de voorkant om te voorkomen dat de mandoline schuift tijdens gebruik. Wel zo veilig!
Geschiedenis van Benriner
In de jaren '40 begon Uyuki Yamamoto het bedrijf, Benriner, met als eerste product een radijs-snijder. De eerste modellen waren gemaakt van hout en werden vooral gekocht door hotels en restaurants. Tijdens de Japanse industriële ontwikkeling was houtmateriaal schaars geworden, daarom is Benriner destijds overgestapt op kunststof. Dit maakte massaproductie mogelijk en was ook nog eens hygiënischer! In 1973 voegde Benriner een vingerbeschermingssysteem toe en een opvangbakje. Dit zijn ook de mandolines zoals we ze vandaag de dag nog kennen!
Frequently asked questions about Benriner