Staub pans: the taste of excellence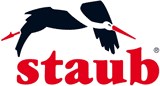 Staub's story begins in the Alsace region in France. A region that is particularly known for its hearty stews. People in the Alsace are very passionate about their stews. Francis Staub used this same passion to perfect the enamel pan in 1974.
He used new technologies which are still relevant now, and the pans are still considered to be among the best around. Are you looking for a Staub cocotte to cook a delicious stew in? Come to Knivesandtools!
Casseroles with a special lid
Staub's casseroles are enhanced with a special lid. On the inside of this flat contoured lid you will find little spikes shaped like drops. When you are cooking the moisture will fall back into the pan via these spikes. Because they are so evenly distributed over the surface of the lid the moisture will also evenly fall back into the pan, instead of dripping down via the rim of the pan. As a result over 9 times as much moisture returns via the middle of the pan giving your dish additional flavour. Because of the weight of the lid which perfectly seals off the pan at least 10% extra moisture will not escape the pan!
Staub has raised the edge of the lid on the outside so you can place ice cubes on it. You can do this to speed up the condensation process. While cooking, you can also put your utensils on top of it which is really convenient. The button on the lid is resistant to temperatures up to 250 degrees Celsius, so it can go inside the oven as well!
Grill pans for delicious meals
In addition to casseroles Staub sells grill pans made from solid cast iron. A heavy-weight material which evenly distributes, and retains the heat. The pans can be used on any type of heat source, you can even pop it in the oven. In addition, changing the heat source is not a problem. Ideal when you want to keep your dish warm in the oven (if it fits at least). The Staub grill pans come in many different shapes, colours and sizes. There are even pans with different handles and different grips that enable you to take hold of the pan with two hands. There are also pans that have been enhanced with a pouring rim. The great benefit of this rim is that you can easily get rid of the excess moisture and grease without spilling. As such you will always choose the pan that suits your every need.
Majolica-email: shiny, intense deep colours
Using the so-called majolica-email technique, Staub creates a deep intense email colour with a high gloss. Each pan is covered with three layers of enamel. The first is a base coating which covers the cast iron. The second layer gives the pan the desired colour and the last layer provides the high gloss with contrasting nuances.
The production process
The molten cast-iron is poured in a sand mould. Each mould is used only once so every pan is truly unique. Excess cast-iron and other imperfections are removed after the pan comes out of the mould. After that the pan is prepared for the email layers. After applying the layers the pan goes inside an 800 degrees Celsius oven for 30 minutes. The result is a rock-solid pan that will last for generations!

<![if !IE]> <![endif]>