de Buyer pans: the favourite in professional kitchens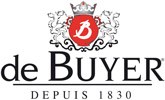 De Buyer pans have been the favourite in professional kitchens for decades. In particular the carbon steel frying pan can count on a great deal of appreciation. A carbon steel pan is not stainless and also has no non-stick coating.
Straight out of the box it has no special layer, because over time you will create your own non-stick layer. This is also called "seasoning". A small layer of oil will make the pan more resistant to sticking. De Buyer pans are the absolute top of the French cuisine.
Difference Mineral B and Acier Carbone collection
The Mineral B Element pans are enhanced with a thin layer of beeswax on the baking surface upon delivery. As such the risk of corrosion is that much smaller. In addition, it helps flavour the taste of the seasoning in the pan. In addition, because of this thin layer of beeswax the pans are better equipped to handle sticking than the regular Acier Carbone collection. All in all no shocking differences in terms of quality, but the Mineral B's are (especially at first) a little more practical in use.
Copper pans
De Buyer specialises in the copper pans. Copper conducts heat great and therefore provides optimal heat transfer and conservation. The inside of the copper pans is made of stainless steel. This makes the pan easier to clean. In addition to the perfect performance of copper pans, they also look very stylish. A true asset to your kitchen!
History of de Buyer
The French company de Buyer has been making high quality cookware since 1830. All products are still made in France, which means it is still original European quality. In addition to exceptionally good pans for professional kitchens, de Buyer also makes very good mandolins.

De Buyer pans often need special treatment. Please take some time to read the product information and follow our tips concerning use and maintenance.

<![if !IE]> <![endif]>