Pocket Knives & Multitools
ESEE Knives: survival knives, formed by practice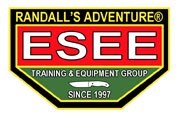 ESEE Knives can't boast a history back to the middle ages. All the more impressive it is, that ESEE Knives has established such a good reputation. The name comes from Escuela de Supervivencia (survival school) Escape, Evasion. The people behind ESEE cooperate with the best to know exactly which requirements must be met by knives. Also they are aware that sometimes a life depends on the reliability of a knife.
Strengths of a strong brand
Heat treating and craftsmanship
ESEE Knives do not automatically choose for the apparently best specifications. So no extremely high values for the hardness (HRC). This is because extremely hard steels break easier and are harder to maintain. Also the common choice for 1095 carbon steel has to do with practice. Although the increased susceptibility to corrosion is seen by many as disadvantage, the benefits seem greater to ESEE Knives. It's easy to sharpen and maintain and the strength is phenomenal. These qualites are more important than a small rust spot, that can be easily prevented by proper maintenance. Many of the blades are well protected against rust by a coating. Also, what you do not see in the specifications, is craftmanship. The heat treatment of steel is extremely important for the final properties. ESEE Knives hast his process covered like no other. Because of that, breakage of the steel hardly ever happens with these knives. Of course, any knife can be destroyed somehow, but in daily and tough practice your ESEE-knife will not abandon you.
Limited lifetime warranty
ESEE Knives believes that a knife should be reliable for everyone. So there is no hassle about receipts if there is a problem. If you have a problem as a user, ESEE Knives will fix it for you. Also, if you're the tenth owner. Only vendors that are very sure of their products dare to offer this warranty.

At Knivesandtools we only offer the original knives of ESEE Knives. The name and quality of ESEE Knives is so high, that regularly copies will pop up which, of course, do not have the quality of the originals. Of course, the knives of ESEE Knives that are sold at knivesandtools are nothing but the real and original knives.

<![if !IE]> <![endif]>