Pocket Knives & Multitools
Robert Klaas knives: over 180 years of knife quality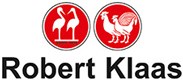 Robert Klaas knives are the embodiment of Solingen knife-making. For over 180 years they have been making amazing pocket knives at Robert Klaas. Pure, classic and German craftsmanship, that is what Robert Klaas represents. Old-fashioned but incredibly good!
Traditionals from Solingen
The best knives made in Germany come from knife capital Solingen. Robert Klaas has also established his factory here about 180 years ago. A real family company where a lot of things are made by hand.
Robert Klaas: Kissing Cranes and Hen & Rooster
In addition to its own name Robert Klaas is also using two other brand names: Hen & Rooster and Kissing Cranes. These two knife brands have a great reputation in the United States. Good to know: the knives that carry the Robert Klaas brand are just as good!

<![if !IE]> <![endif]>